99.3 WBTV‑LP
Your Community, Your Radio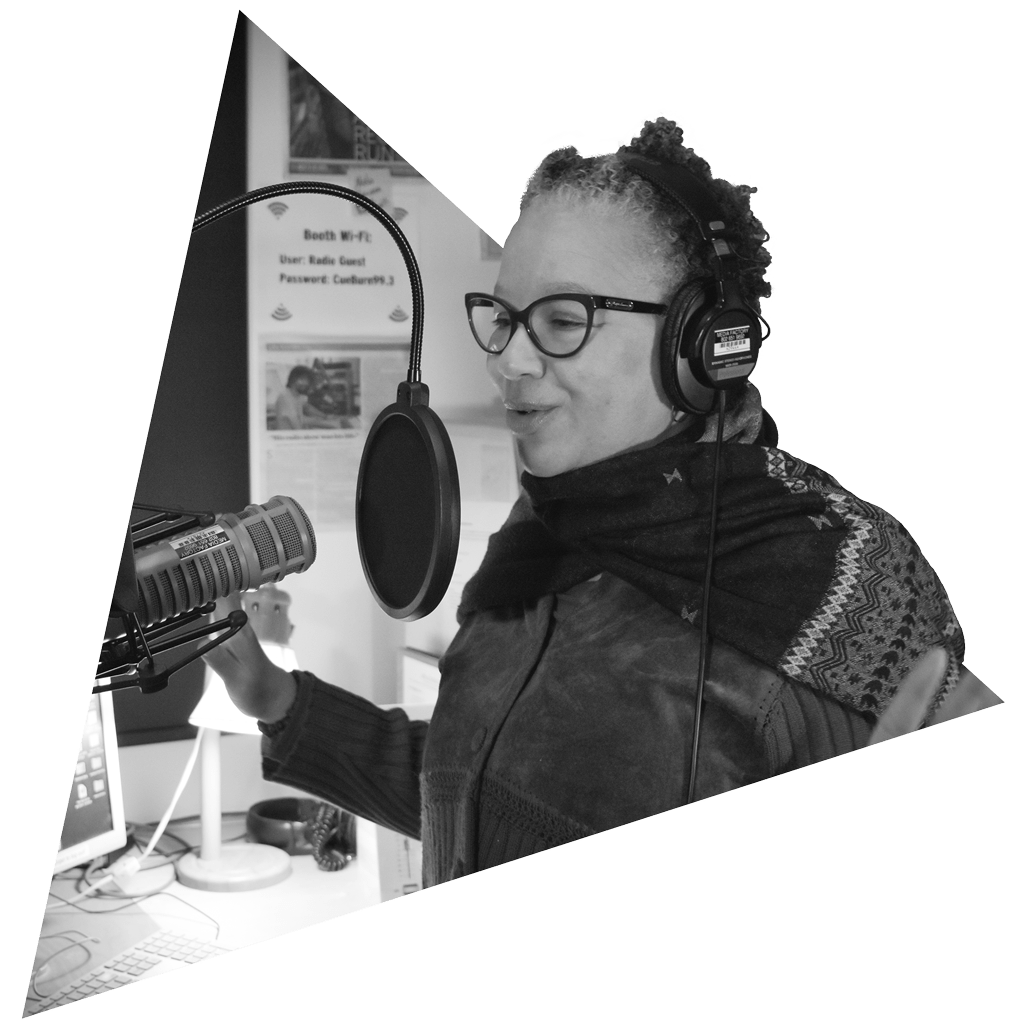 99.3 WBTV‑LP is an all-volunteer community radio station located in Burlington, Vermont. With a strong commitment to delivering top-notch entertainment and promoting free and open media, WBTV‑LP strives to foster civic engagement and government transparency, thereby empowering its communities to stay informed, connected, and resilient.
Challenge
99.3 WBTV‑LP came to us with a few challenges. They were determined to fix their music player, making it easier for someone to find a recently played track they heard on the radio, and also making the music player more user-friendly. Additionally, they wanted to provide an effortless way for their audience to discover new shows and programs. 99.3 also hoped to showcase their vibrant community of DJs and volunteers who play a pivotal role in the station's identity, creating a stronger bond with their listeners. Lastly, they wanted their website to have a new design that truly reflects who they are.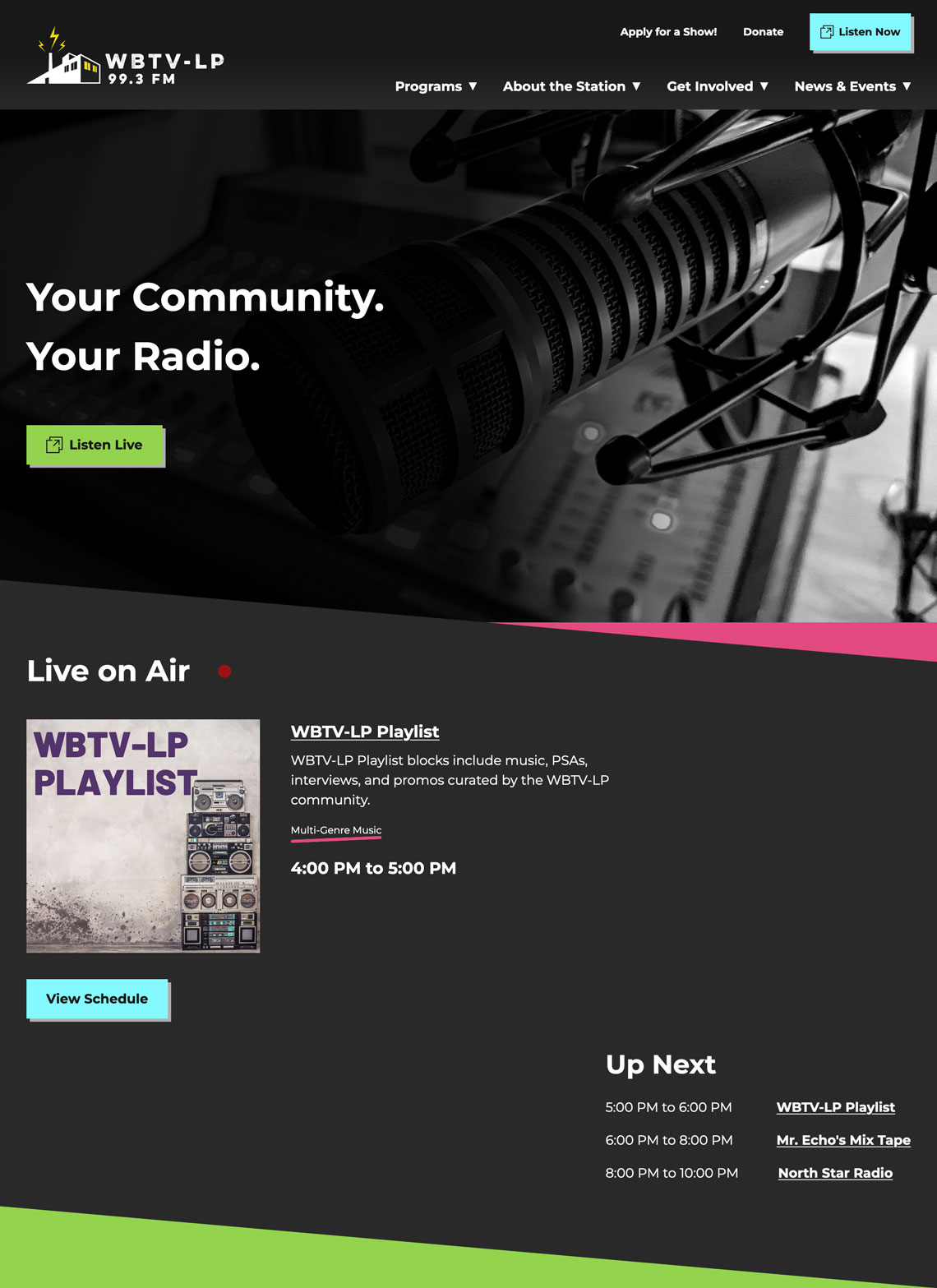 Project Goals
Improve Music Player: Develop and implement improvements to the music player to ensure better on-the-go accessibility on the website for desktop and mobile. This includes optimizing the player's functionality and ensuring recently played tracks buffer and are accurate.
Streamline Content Discovery: Create a user-friendly interface making it easier for listeners to discover new shows and programs quickly and conveniently.
Highlight Community: Showcase the vibrant community of DJs and volunteers.
Refresh Website Design: Revamp the website design to align with 99.3 WBTV‑LP's unique identity and brand.
Solution
To tackle these challenges, 99.3 WBTV partnered with Bluehouse Group to develop a comprehensive website redesign
Improving the Music Player: Using the Spinitron API, Bluehouse Group designed and created a live music player that allows listeners to tune in to 99.3's programs live on the web from any device. With Spinitron, the player displays the currently playing track, along with the last 10 tracks that were played. Each track loads with its album cover and song details, such as the artist, song name, and album name. The player also records the time when 99.3 started playing each track.
Improving Discovery: In the website redesign, a large focus was on improving program discovery for listeners. We introduced a Programs and Schedule section on the landing page, where 99.3 can showcase six selected shows. In this section we also included buttons for easy access to the complete list of programs or the schedule with just one click.
On the All Programs page, we created filters to allow users to sparse through the wide variety of programs offered by 99.3. Users can now filter shows by genres and day of the week. Additionally, we created a toggle allowing visitors to further distinguish between licensed and local shows. These additions will significantly aid listeners in discovering new programs offered by 99.3, based on their music preferences and available free time.
Highlighting the Community: The previous iteration of 99.3 lacked substantial information about the program hosts. To solve this, we created a "Meet Your Hosts" page. On this page, visitors can view photos of the hosts from the programs they listen to, along with the names of the programs the DJs host. Learning more about the hosts adds another layer to the music-listening experience, and it can even help listeners understand why the hosts choose to play certain songs during their shows.
Seamless Integration: The team ensured seamless integration with the station's existing systems, making it effortless for the staff to manage content, schedule shows, and keep the platform up to date with the latest information.
Website Design: Since music is always paired with appealing visuals like album covers, the visual elements played a significant role in our design. To recreate the feeling of listening to an album, all of the program cover images and host profile photos are in square formats. We chose a dark mode design accented with triangle shapes in neon colors. The colors truly stand out against the dark background, and the dark mode design reflects the modern aesthetic of popular music players like Spotify.