HeatingHelp
The go-to resource for Heating related questions since 1997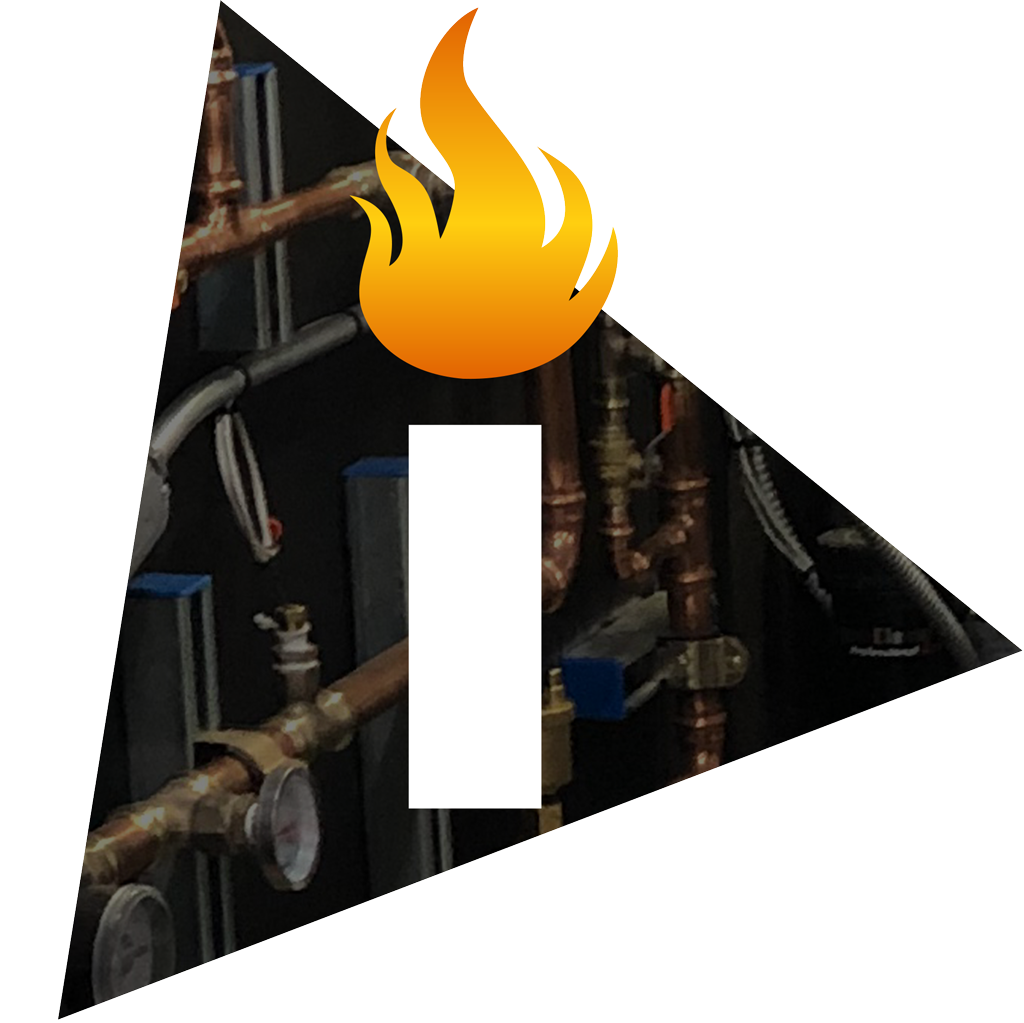 Since 1997, HeatingHelp has been connecting people in the HVAC industry, providing a platform for sharing industry education and knowledge. On the website, users can access thousands of resources related to heating to answer or solve their heating questions.
Challenge
Over the years, HeatingHelp has shared thousands of heating-related resources and documents on their website, ranging from manuals for old heating systems to PDFs from HVAC textbooks. Given the volume of content, HeatingHelp wanted to improve their user experience, making it easier for users to find answers to their heating questions. Additionally, HeatingHelp wanted to modernize the overall look and feel of the site and better integrate with their sponsors' advertisements. Lastly, HeatingHelp wanted to improve their Find a Contractor and Get Listed sections of the site to increase the total number of registered contractors on the site.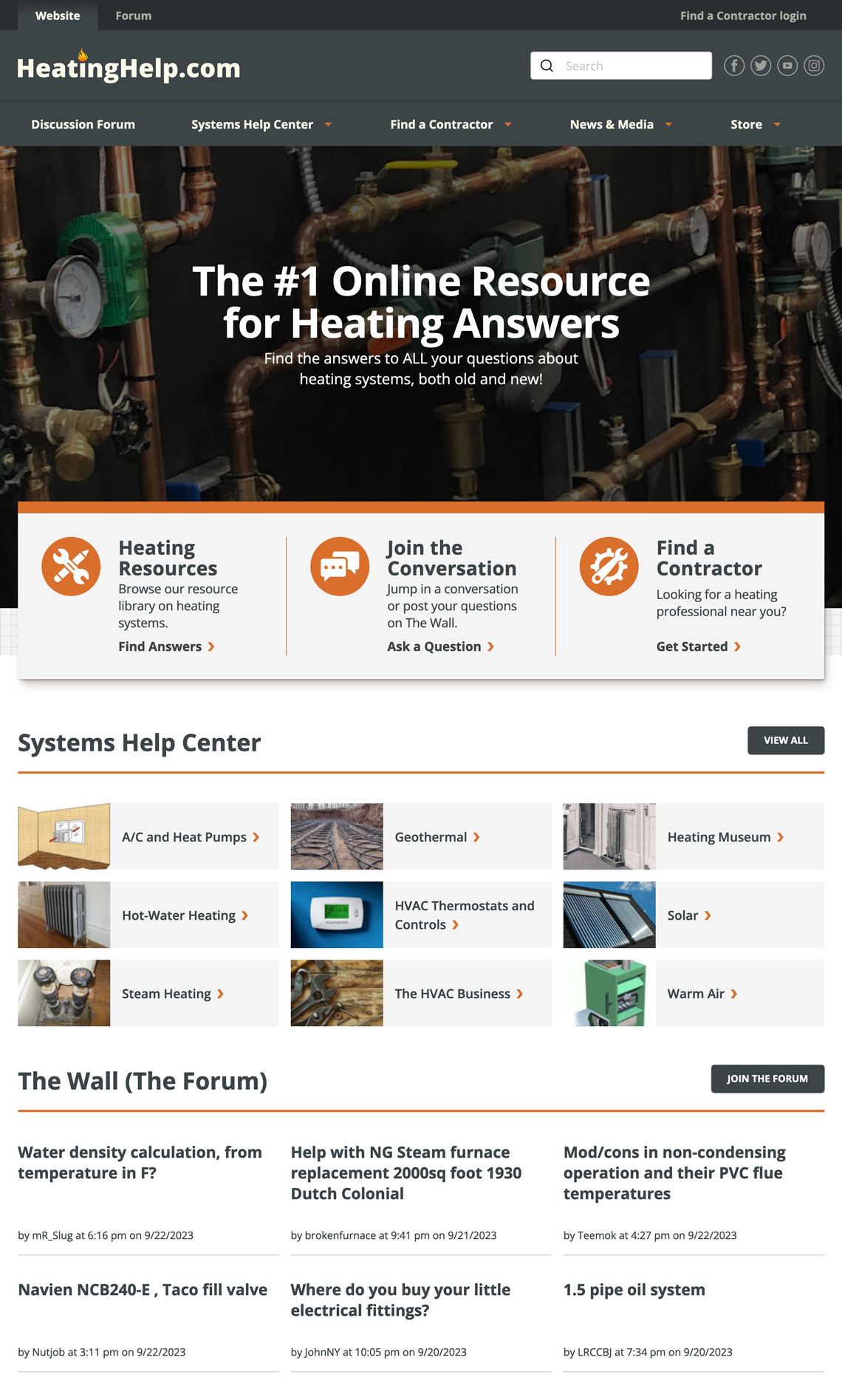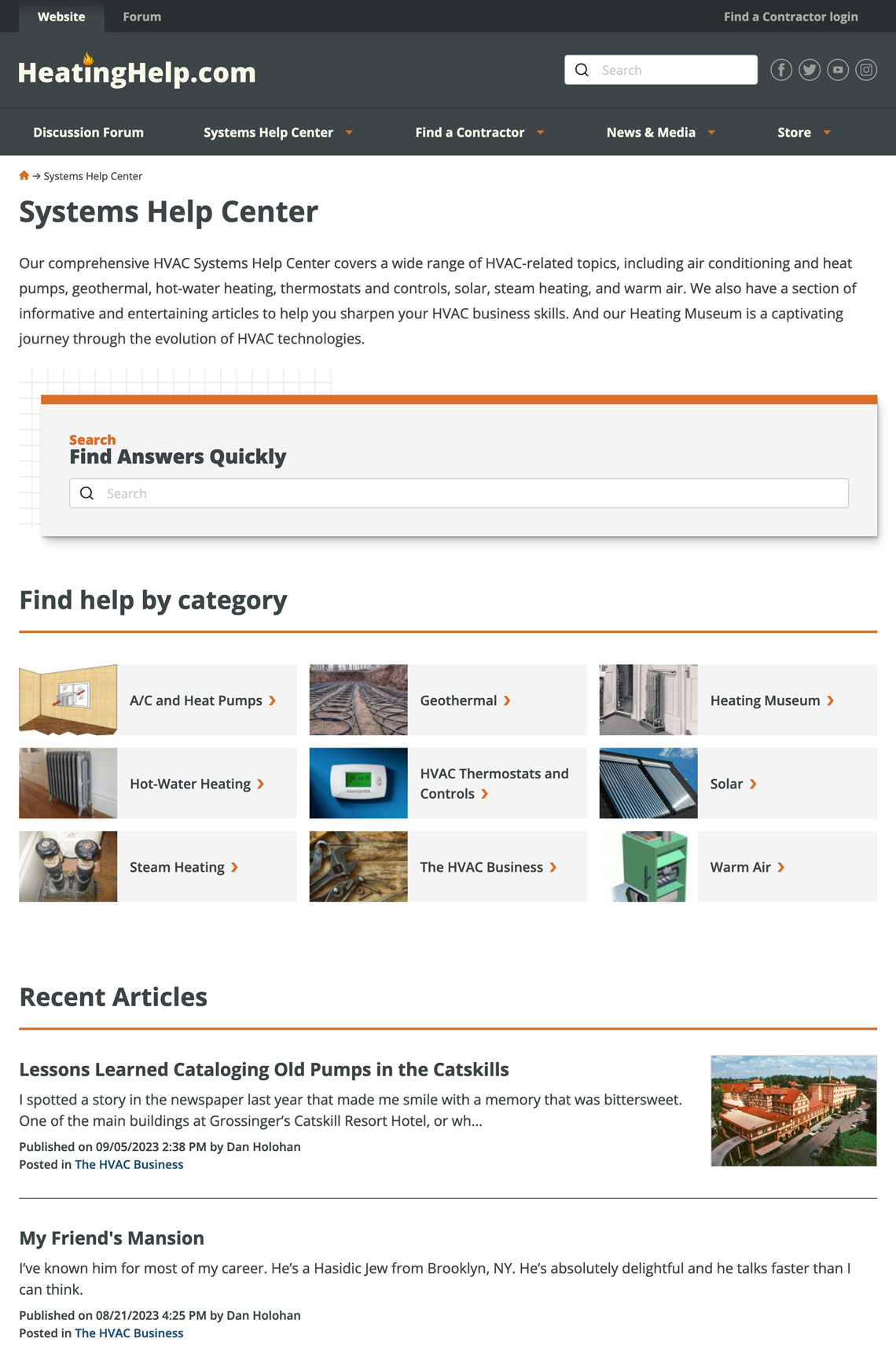 Project Goals
Organizing Content: Implement organizational improvements to make it easier for users to find helpful resources for their heating related questions or research.
Improving Search: Improve the search engine to be more accurate in giving the user helpful search results for their questions.
Improve Find a Contractor and Listings pages: Streamline the process of registering as a contractor to improve conversions and improve the process of finding a registered contractors to assist the users heating issues.
Refresh Website Design: Revamp the website design to align with HeatingHelp's unique identity and brand.
Solution
To tackle these challenges, HeatingHelp partnered with Bluehouse Group to develop a comprehensive website redesign
Organizing Content: We started by redesigning the infrastructure architecture (IA) to improve discoverability and navigation. Initially, HeatingHelp had two separate sections for storing heating resources. We chose to consolidate them both into one section to simplify the navigation. Additionally, we trimmed the number of categories on the site, reducing confusion and preventing users from being overwhelmed by all of the options.
Improving Search: We improved the site's search engine by enabling keyword searches within PDFs and other resources on the website. We also made it so that when users type in the search field, suggested resources appear below the search bar so users can find answers even quicker.
Improving Find a Contractor and Listings pages: We simplified the process for contractors listing their business on HeatingHelp. We also made it easier to find the "Get listed" section on the website. Furthermore, we improved the user experience for those searching for a contractor to assist with their heating-related needs and issues.
Website Design For the design, we kept a dark orange, gray, and white color palette from the previous site. It was important for us to maintain visual continuity from the original design to ensure a smooth transition for existing users. We also made changes to the landing page design. Instead of emphasizing the search bar as it was on the old site, users now have direct access to three main options: Heating Resources, The Forum (a subdomain of HeatingHelp), and the Find a Contractor page. These three options are the most popular paths that users take on the site, and by placing them front and center, we aimed to improve user navigation and efficiency.